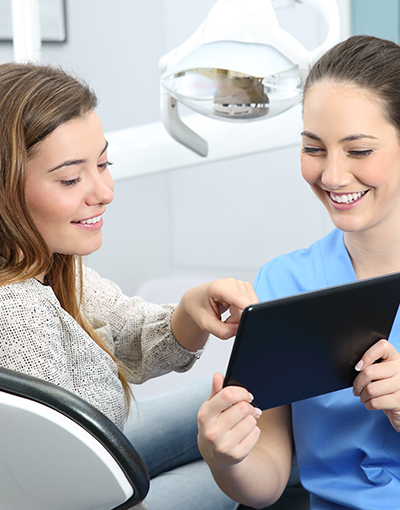 For additional information on orthodontic services, please visit our partner website, Coastal Family Orthodontics.
Orthodontic Evaluation
The first step in your orthodontic journey is a FREE orthodontic evaluation. With a complimentary consultation, our talented and experienced orthodontists will take a close look at your teeth with X-rays and by a thorough exam and determine the appropriate path of treatment for your smile.
Invisalign
We proudly provide Invisalign treatment for orthodontic patients. These clear aligners gently move your teeth over time without the apperance of traditional braces. If you are interested in Invisalign treatment, talk to your dentist to see if your child may be a good fit.
iTero Digital Scanner
With the iTero Digital Scanner, you can say goodbye to the sticky putty typically associated with dental impressions. We take the stress and dread out of starting your braces journey with this state-of-the-art technology that creates a 3D model of your teeth right before your eyes. Learn more about the iTero Digital Scanner on our blog or schedule a free consultation today!
Herbst Appliance
The Herbst appliance is applied to the molars and connects the upper jaw to the lower jaw. The tube that connects the upper and lower jaw allows the orthodontist to control the position of the jaw and help ensure proper alignment. This is approximately a 12-month process, and we will be there to help you every step of the way!
Clear And Ceramic Braces
Clear and ceramic braces offer another alternative to traditional metal braces. They are less visible on your teeth and may be more cosmetically appealing for some patients. Schedule a complimentary consultation with Coastal Family Orthodontics today, or visit our blog to learn more about clear and ceramic braces.