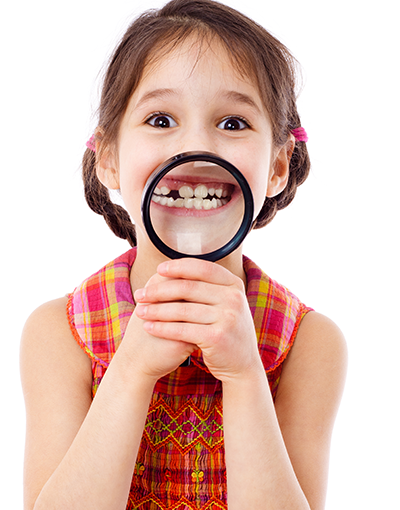 At Coastal Kids Dental & Braces, we recommend oral health exams twice a year, preferably during your child's bi-annual teeth cleaning.
Our experienced pediatric dentists will examine your child for abnormalities in the development of their primary teeth and any adult teeth that may be surfacing. We also check for plaque build-up which can lead to sickness.
Why We Perform Dental Health Exams
Dental health exams allow dentists to take a closer look at the overall health of your child's mouth. The exam includes a routine cleaning, evaluating the risk of tooth decay, and discussing your child's oral hygiene and eating habits. This appointment allows us to detect any issues early so they can be treated or prevented. Once the exam is completed, your child's dentist will bring up any concerns they see, talk through any changes to make in your routine or demonstrate proper brushing and flossing techniques if needed
When Is It Time For A First Oral Health Exam?
Many parents may be wondering when their child should see the dentist for the first time. No worries – we've got your answer! The American Academy of Pediatric Dentistry recommends taking your young child to the dentist within 6 months of their first tooth coming through and no later than their first birthday. It's never too early to be concerned with oral health! it's easy to remember, first tooth, first birthday, first dental visit!
At this stage of your child's smile, your dentist will look at their feeding practices, thumb-sucking and pacifier habits, teething, and mouth cleanliness. These are all concerns that can impact your child's oral health for life, and we want to help your child have a lifetime of healthy smiles!
What To Expect In Your Child's Exam
Education is a priority. It is our goal at Coastal Kids Dental & Braces to make sure your child learns the importance of practicing daily oral hygiene. Our trained and experienced team will show your child how to brush and floss properly and discuss proper nutrition.
In any of our Charleston offices, our trusted dental hygienists or expanded duty assistants will perform your child's cleanings and overall dental health exam. Throughout the exam, they will use various instruments and devices to loosen and remove deposits such as stains, tartar, and plaque from teeth. Regularly scheduled cleanings also allow for discovery time as our team demonstrates proper hygiene with your child. Our focus is education and prevention, so we recommend special preventative treatments, such as fluoride and sealants, that will benefit your child's oral health.
During the exam, your dentist will check your child's teeth, jaw, and oral tissues, as well as look for any abnormalities that may generate problems as your child grows. That includes examining primary or baby teeth and any adult teeth that may be surfacing. Our team will explain any findings and let you know if your child needs follow-up treatment.
We perform X-rays only when necessary to help locate cavities or detect other abnormalities. If your child has any decay, our dentists will recommend the appropriate treatment options.
At the end of the appointment, your child will be able to pick a prize to take home. Just a little way of letting them know we are proud to have them as part of the Coastal Kids family here in Charleston.
Children's Oral Exams FAQs
At what age should I bring my child in for his or her first oral exam?
The American Academy of Pediatric Dentistry recommends scheduling an initial exam after your baby's first tooth erupts or no later than your infant's first birthday
How can I get my child ready for his or her dental visit?
Schedule the appointment at a time of day when he or she is well-rested and most likely to cooperate. Let your child know the dentist will use special tools to keep his teeth healthy. Avoid sharing any negative words or experiences with your child.
How often should I bring my child in for dental cleanings?
Routine dental cleanings are essential for preventive care. In general, we recommend cleanings twice a year for all pediatric patients in our care. Some children need more frequent dental visits because of increased risk of tooth decay, unusual growth patterns, or poor oral hygiene. Your pediatric dentist will let you know the best appointment schedule for your child.