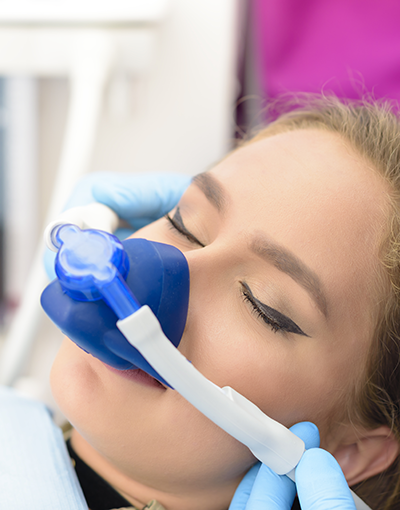 Nitrous oxide or "laughing gas" is a safe and effective treatment, even for children. It's used to sedate and calm patients who may feel anxious. For your child, it's a relaxing and comfortable way to get through a dental procedure.
Using Sedation In Children's Dentistry
Your child will inhale nitrous oxide through a tiny mask placed over the nose. He or she should not experience any adverse effects. According to the American Academy of Pediatric Dentistry, less than 0.5% of young patients have nausea or vomiting. We advise parents to keep their children from eating for two hours prior to the procedure so they don't get sick while drowsy.
Types Of Sedation
Although there are several options for sedation, there are four main types of sedation used for children's dentistry. The main types are:
General anesthesia: General anesthesia is performed under the care of an anesthesiologist and the child will be completely asleep during the procedure. With general anesthesia, the child will feel no pain during the procedure. This type of sedation requires an IV and a breathing tube during the procedure.
Deep sedation with IV: With deep sedation, this procedure uses intravenous (IV) medication to keep the patient asleep for the procedure. Unlike general anesthesia, the child may be able to make little noises during the procedure. Also with the guidance of an anesthesiologist, they monitor your condition alongside the pediatric dentist during the procedure.
Nitrous oxide: Nitrous oxide, a gas mixed with oxygen, is breathed in during the procedure to create a mild sedative state to keep the child comfortable. This relaxes the child and eases anxiety without being put asleep. Also known as "Laughing Gas," nitrous oxide may give the patient a tingly, floaty feeling, and is the least invasive sedation option for pediatric dentistry.
Mild to moderate sedation: This level of sedation is typically administered through oral medications by the pediatric dentist. For the procedure, the child stays awake or can be awakened easily if they do fall asleep. The patient remains responsive during the procedure and has the ability to move around. No IV or breathing tube necessary!
Your dentist will decide which type is best based on the procedure and need for the child. At Coastal Kids Dental & Braces, we will discuss each option with you and determine what is best for your child.
The Benefits Of Using Nitrous Oxide In Pediatric Dentistry
Nitrous oxide is a quick and simple form of sedation to ease the discomfort and anxiety that may be involved with a minor dental procedure. During the procedure, your child will be conscious and have the ability to communicate with their dentist. It also allows for a quick recovery to help patients get back on their feet after a day at the dentist.
Is Nitrous Oxide Safe For Children?
Our specialized pediatric dentists at any of our 9 locations are highly trained in creating a safe environment for your child during any dental procedure using nitrous oxide. Our dentists and their teams monitor the level of nitrous oxide and your child's oxygen level throughout the procedure. This ensures safe amounts of nitrous oxide are being administered during the procedure, and that your child leaves happy and healthy!
Contact Coastal Kids Dental & Braces today for any questions regarding nitrous oxide use.
Post Sedation Procedure Instructions
After a dental procedure using sedation, your child will need time to rest and recuperate. They may feel groggy, nauseous, uncoordinated, or giggly after sedation. Be sure to monitor your child, following all the post procedure instructions from your dental teams and dentist. Staying comfortable and getting rest is key for recovering from a dental procedure. Your pediatric dentist will provide any specific instructions following your child's procedure if necessary.
Contact Coastal Kids Dental & Braces today to learn more about our sedation dentistry practices or schedule an appointment at one of our 10 Charleston offices!