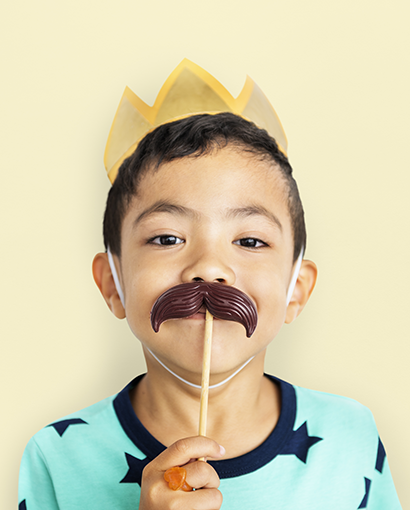 The thought of your child getting a dental crown may not be ideal, but Coastal Kids Dental & Braces' dentists aim to make the procedure easy, stress-free and comfortable for your child. With the procedure done in one appointment, your kids will be right on track for lifelong healthy and happy smiles.
What Are Dental Crowns?
A dental crown is a restoration that covers or "caps" a tooth, restoring it to its normal size and shape while strengthening and protecting it from further cracking or breakage.
Why Dental Crowns Are Used
Crowns are used as a solution when a tooth is damaged by decay to the point that a filling is no longer a treatment option. Sometimes when a dentist removes significant tooth decay or performs a nerve treatment, he or she will recommend capping the child's affected tooth with a crown.
Stainless Steel Versus White Dental Crowns
Stainless steel dental crowns are silver caps that cover the entire tooth and preserve more of the tooth structure than other types of crowns. Typically used on back molars, stainless steel dental crowns are a strong solution for preserving teeth, as they withstand biting and chewing forces well and rarely chip or break. Stainless steel dental crowns are often used on young patients who are in active occlusion and require a crown that can adapt to an adjusting and growing mouth.
More commonly used on adult teeth, white dental crowns are used to strengthen decayed front teeth. They are commonly referred to as strip crowns and made of a composite resin, making them a more natural tooth color that is more cosmetically pleasing. When white dental crowns are used on back teeth and molars, they are made of porcelain fused to metal material. Due to the material used, white dental crowns are more rigid and work better when a mouth has stopped growing.
Your Coastal Kids Dental & Braces dentist will help determine which dental crown is right for your child!
How Many Visits Are Needed For Dental Crowns To Be Completed?
Typically, the application of dental crowns is completed in one visit, and the crown generally lasts until their baby teeth are replaced with adult teeth. Dental crowns are a low-stress way to keep your child's dental structure healthy to support their permanent teeth for life.
What To Expect After Your Procedure
After the dental crown has been applied, your dentist will advise that your child keep from eating until the numbing agent has worn off. This will keep your child from biting their tongue, lip, or cheek, causing an injury.
Your child could experience some mild discomfort for up to 24 hours following the procedure, but that is completely normal. Over-the-counter pain relievers, such as acetaminophen or children's ibuprofen, will help ease any discomfort or irritation.
Ways To Prevent Needing A Dental Crown
Most parents don't want to hear, "Your child needs a dental crown," so we have a few ways you can help prevent it – and prevention starts with education! While sometimes accidents happen, here are a few things to do to avoid getting a crown:
Be careful biting down on hard foods
Don't use your teeth as a tool
Talk to your dentist if you grind your teeth
Don't wait to get your cavity filled
See the dentist for any tooth pain as soon as possible
Floss daily
Choose water over soda or juice
Wear a mouthguard for contact sports
And lastly, be sure to brush your teeth every morning and every night!
Taking small steps toward a healthy smile can ensure good oral hygiene for life. Questions? Give us a call anytime at any of our 9 locations or schedule an appointment with us today!
Children's Dental Crown FAQs
Is getting dental crowns painful?
Getting a dental crown is not painful! Your pediatric dentist gives patients local anesthesia to ward off any pain or discomfort during the procedure. Here at Coastal Kids Dental & Braces, comfort is our ultimate goal when helping your child achieve a healthy smile!
Can a dental crown fall off?
Proper care is essential for long-term dental crown wear. Be sure to address teeth grinding with your dentist and keep a close watch on if it continues after the crown has been put on. With great care, your child's dental crown should last until it falls out and is replaced with a permanent tooth.
Does a crowned tooth require special care?
A crowned tooth doesn't necessarily need special care, just brush and floss regularly to keep your mouth healthy! Proper dental care will lead you to a lifetime of healthy smiles.
How long does a crown stay on your teeth?
Your child's dental crown should stay on until the tooth falls out for the permanent tooth to come in. With proper oral care and being mindful of personal habits (like grinding or clenching your teeth), the dental crown will stay on from application until the baby tooth comes out.
Ways to protect a dental crown?
Protecting a dental crown is similar to preventing the need for a dental crown. Maintaining proper oral care is key. Remember to wear mouthguards for contact sports, talk to your pediatric dentist if teeth grinding is occurring, and don't use your teeth as a tool to open chip bags or bite your fingernails.