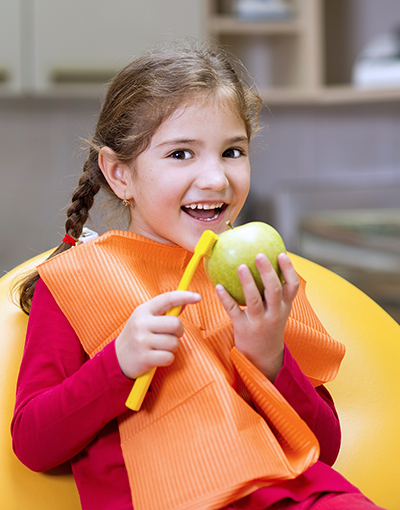 Staying cavity-free and maintaining great dental hygiene starts with visiting your dentist for routine dental cleanings. During appointments, we will focus on education and prevention, demonstrating how to brush, floss, and develop a great oral care routine. These cleanings also allow for discovery time as our team walks your child through the appointment and identifies and talks about each instrument they use. We value transparency during our appointments to build trust with our patients and make each visit exciting!
At Your Cleaning Appointment
During cleanings, we maintain an open dialogue and demonstrate each step of the process. We involve your child during each step to get them excited about their new oral hygiene routine! Visits with our team go beyond a routine cleaning. It's a fun and exciting experience for the child and parents with benefits that will last a lifetime. Plus, all new patients get a Coastal Kids Dental & Braces T-shirt to wear as new members of our family!
Why Regular Dental Cleanings Are Important For Kids
Starting dental hygiene habits early in life is crucial for a healthy smile and a growing body, and part of that regimen includes routine teeth cleanings and check-ups with your dentist. Children should visit the dentist every 6 months – just like adults!
Children and babies' teeth are more prone to decay, so routine cleanings and check-ups are very important for preventing cavities and infection, removing plaque, and keeping your child's mouth healthy for life.
Schedule A Dental Cleaning Appointment For Your Child Today!
Visit one of Coastal Kids Dental & Braces' 10 convenient locations in the Charleston, SC area – Mt. Pleasant, Summerville, North Charleston, Walterboro, and Monck's Corner, we have you covered! Schedule an appointment today and see the difference high-quality pediatric dental care can make. We make going to the dentist fun!
Kids Dental Cleaning FAQs
When can toothpaste be used to clean a child's teeth?
The American Academy of Pediatric Dentistry recommends the earlier you start using toothpaste, the better. If your child is under 3 years old, doctors recommend using only a rice grain-sized smear of fluoride toothpaste. If your child is between the ages of 3 and 6, use a pea-sized amount of fluoride toothpaste. Always help and supervise your child with brushing and remind them to spit and not swallow any remaining toothpaste.
What is a fluoride treatment?
Fluoride treatments are a quick and simple way to strengthen the enamel of your child's teeth. A sticky gel applied directly to your teeth after the cleaning, a fluoride treatment typically takes about 4 minutes, and dentists recommend no eating and drinking for 30 minutes after the treatment. Fluoride treatments are a great way to keep your teeth strong and healthy. Ask your dentist if fluoride treatments are right for your child!
Can cavities be avoided?
Good news, parents! There are a few ways your child can avoid getting cavities. Here are some helpful tips:
Avoid sugary foods
Ensure your child brushes their teeth twice a day, especially before bedtime
Use age appropriate amount of fluoride toothpaste with brushing
Floss daily
Drink plenty of water, limiting sugary drinks and even juice
Ask your pediatric dentist about fluoride treatment or supplements
Limit snacking – a healthy diet is key for a healthy smile!
Ask your dentist about sealants – Sealants are a safe, simple treatment that protects teeth that are difficult to brush!
How often should we change a toothbrush?
To ensure you're effectively brushing, dentists recommend changing a toothbrush every three months. Toothbrushes break down and lose their overall effectiveness after three months which prevents achieving optimal oral health.